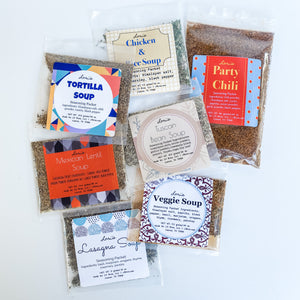 7 Seasoning Packets and Recipe Cards: Tortilla Soup, Lasagna Soup, Party Chili, Tuscan Bean Soup, Mexican Lentil Soup, Chicken & Rice Soup, and Veggie Soup Seasoning Packets and Recipe Cards

This bundle is perfect for Fall and Winter. These 7 amazing soups are great for a cozy day at home with family or even a big get together. The full flavor and hearty soups are just what you need to feel warm and satisfied on a cold day. 
These soups are great to take to a friend or family that needs a yummy, home-cooked meal. Who do you know that needs a little soup for a pick-me-up?
Most packets are a one-time use that feeds 4 - 6 people. Party Chili serves 6 - 8 people.
To learn more, check out my Instagram page @CookingWithLori
All orders will ship within 2-3 days
*bundle includes seasoning packets and recipe cards only